"Our daughter has been working with KI for about 4 years now. We love the team at KI! They have the best classes for developing talent, and are always professional. They truly care about the kids they work with, and always have the children's best interests at heart.  We love KI!"
"I sent in a picture of Colin when he was only three years old and it caught Barbara's eye. She called me and we met and asked to meet Marina also. Marina went on her first audition and booked it, which I though was beginner's luck. However, for the past six years they have both worked consistently. Ki Talent does a great job of providing opportunities for the kids to work as well as training and support. The kids and I both love working with Barbara and Sam. We have also worked together as a family (of four), three times now on set and it was a wonderful experience." 
Chris, Laura, Marina and Colin Moore
(clients since 2011)
"We have had a wonderful experience with Kids International!  Barbara and Sam have been a wonderful team to work with and provide great guidance, training and opportunities for both of our girls.  They have given us  fantastic workshops to help develop and refine our girls acting skills and are a lot of fun to work with.   It has been a pleasure working with them and we hope to continue for many more years!"
"My son joined Kids International several years ago. He enjoys modeling most, but has also been introduced to acting. He has really enjoyed his time with the agency and has had some great experiences. Sam and Barbara Love are such kind, caring people who really love children. KI offers great training classes which prepared him for auditions and helped him land several jobs. In addition to the great stuff I already mentioned, Sam and Barbara connected us to an excellent photographer who took headshots that were amazing and very affordable."
"I've been with Kids International Talent Agency for a while now and I love every moment of it. The workshops that I choose to take have been enlightening and helpful. The people that I have met in those workshops were amazing including the actors who taught us. Barbara has sent me on many auditions and I've had a few call backs also. The recent job that I did gave me a great opportunity to show what I can do. I am extremely thankful and lucky to be part of the fantastic KIT agency. :)"
"I began working with Mr. Sam and Ms. Barbara, at the age of 3.  From the beginning Mr. Sam explained to my Mom about the business, what to expect and how professional I needed to be while at auditions and on-set.  Ever since my first workshop at KIA, I've always been received with a huge hug from Ms. Barbara. I am now 14 years old, and have a strong resume thanks to KIA.  I can say that I wouldn't be who I am without my KIA family!"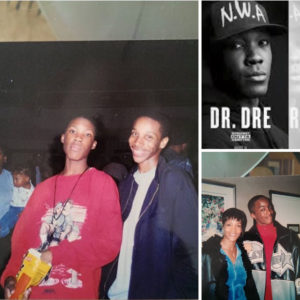 "So most of you don't know much about my past life so let me share a little awesome fact. A long time ago I use to be a professional actor/ model. I had the best talent agent ever who became like a second mother to me...Barbara Yount Love!!!!! She runs a talent agency in the DMV called Kids International.
Back in the day when I went on countless auditions I met a guy at KI who became one of my best friends and partners in acting. Me and this guy would go on a lot of auditions together. His mom ran a modeling agency and the two of us did several modeling shows together. Good times! The years passed and we lost touch as our lives changed. Lo and behold, after all these years one of my best friends that I ever had is starring in a movie. 
Congratulations to my old friend Corey Hawkins in portraying Dr. Dre in "Straight Outta Compton"!!! Make DC proud Man! I have included pictures of me and Vivica A. Fox for a movie read,and the other picture is of Corey (left) after one of our modeling jobs. I was taking the picture."
"Working with KI has been an extremely rewarding experience. Our kids have been KI talents since January 2015 and love the opportunities that have come their way. The workshops, auditions and bookings certainly make this journey worth the effort. Fantastic agency!"
"We were lucky enough to have our daughter join KIT after being with another agency. Barbara and Sam would not take her on though, until we made a clean break in writing. That's how they've built such a fine reputation in this business, by always being ethical and honest!  Now she's with the only franchised Sag/Aftra agency in the area, KIT!!
Jobs have been exciting, fun, and lucrative for our girl, and the KIT Master Classes offered invaluable training! In one case, she was cast the next day, because of the confidence and technique she gained from an outstanding guest actress' seminar!!
Barbara and Sam work hard to maintain their star agency, which always benefits the talent they represent! We feel like part of a family and so fortunate our daughter is with Kids International Talent Agency!!"